Current Projects
Here are some of the projects I'm currently working on. You can view details of projects I have worked on in the past on my Projects page.

Digital Media Access Group (DMAG)
July 2007 to present
We offer consultancy in accessible and usable design of digital media, specialising in the accessibility and usability of Web sites to disabled and older people, and providing custom accessibility reports/audits of Web sites and software interfaces.
Find out more on the DMAG Web site.

Worth Playing: Digital Games for Active and Positive Ageing
January 2012 - August 2013
This project seeks to understand what makes, digital games worth playing by people over the age of 60. Subsequently, we will develop digital games that reinforce and exploit the strengths of older people both as individuals and game players, as well as compensating for their limitations, reducing isolation and fostering socialisation. We will design, develop and evaluate a prototype online game for older people. The project is jointly run with the University Pompeu Fabra - GTI and the IIIA-CSIC Artificial Intelligence Research Institute in Barcelona.
Find out more on the WorthPlay Web site.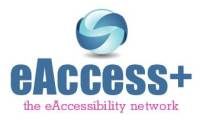 eAccess+
September 2010 - August 2013
eAccess+ is a network of European organisations from academica, the public sector, industry and non-profits, who together are trying to encourage and support adoption of e-Accessibility by companies and organisations across Europe. We'll do this by growing the network and reaching out through speaking at events, sharing resources, and generally supporting people in developing a more inclusive approach to using information and communication technology to deliver services.
Find out more on the eAccess+ Web site.